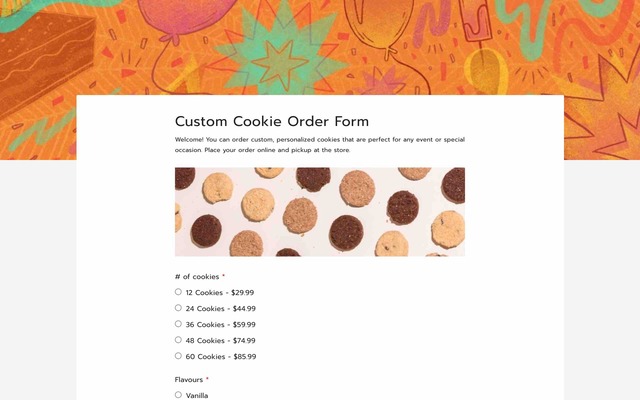 Use our readymade template to create this Google form. Customize it further using our form builder.
Create custom cookie order form in minutes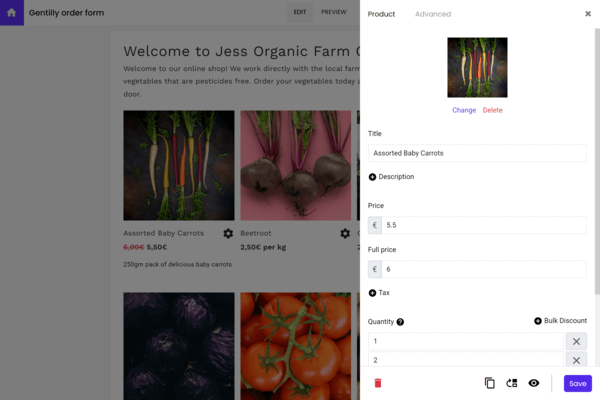 Use AI-powered wizard to setup this form
Supports responsive card layout
Checkout page included
Enable payment on checkout
Take online orders from your Instagram/Facebook fans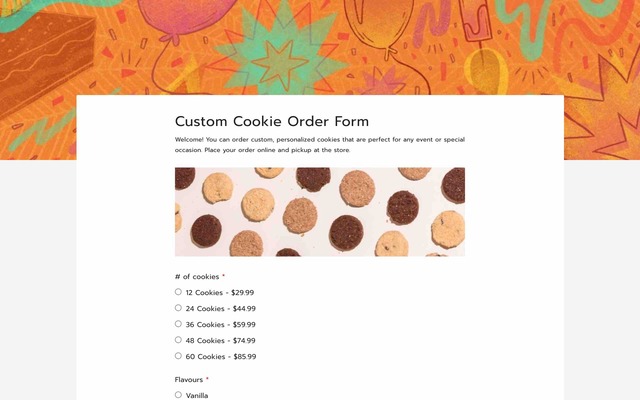 Craft a personalized welcome message for your fans
Share the form's short link on Instagram & Facebook
Create link with your brand name for business pages
Create special discount for fans using prefill link
Enable autologin to prefill details of repeat customers
Send confirmation email on submit and delivery
Follow up abondon customers using template email
Track your orders in Google Sheets & Reports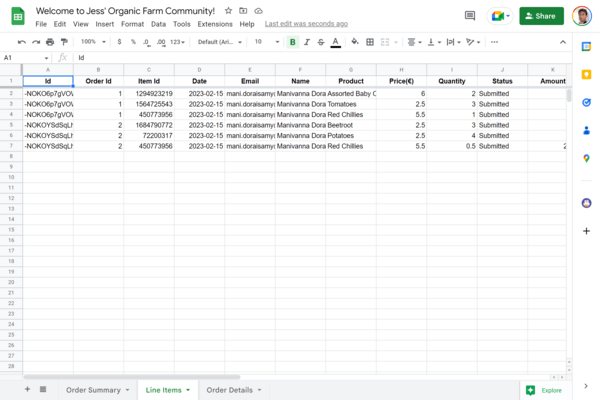 Sync your orders & line items to Google Sheets
Use Google Sheets to integrate with accounting system
Streamline your order processing using kanban board
Notify your team with email, sound when order arrives
Print pickup lists, packing lists to fulfill orders
Use reports to see orders sold by product, customer etc.
Scale your business without IT team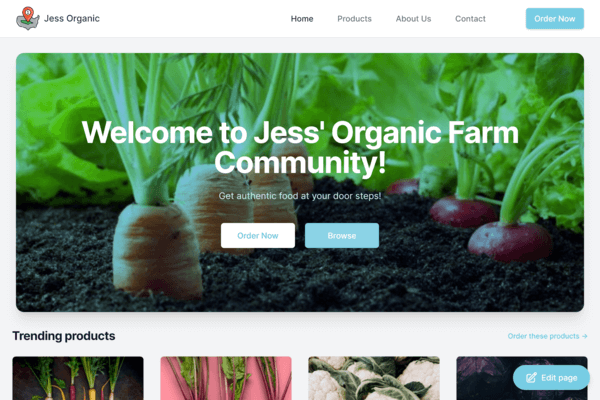 Create e-commerce website in one click
Introduce your company with About us page
Collect feedback using Contact us page
Get organic traffic with SEO optimised pages
Promote your business with Facebook & Google ads
These reviews are reproduced without modification from Google Workspace Marketplace.
November 30, 2023
5 stars
We utilized Neartail to make our ordering form more robust within Google Forms. The customizable template and ability to create formulas to help with tax on supplies was a life saver for a huge order we worked on for two of our locations. I could not be happier with Neartail, and the customer service that I received from Vipin. He was very responsive and helped so much!

— Kendra Joseph
It is an excellent addon that helps you create an amazing website. I'm really happy with the result, the service support is really good and fast answering and solving issues. We have been using this addon for more than a year and it is a really good experience. I recommend strongly this addon. Thanks!!!

— David Pastor
September 4, 2023
5 stars
I loved how easy it was to set up a simple website with a professional appearance for our temporary merchandise site. I'm not technical so building something from scratch would have been impossible and we are a small NFP without budget to have a website built for us. The reporting functionality is great and easy to navigate and technical support was only an email away with fast responses. Monthly cost was very reasonable. Overall delighted with the service. Thanks!!

— Heiko Jonkers
November 29, 2023
5 stars
I like Neartail features like ease of order total and payment processing

— mjboohaker
Super easy to use. I do not need to use it often so I tend to unsubscribe when my team no longer needs to order uniforms. But I always sign back up when I need it.

— Anne Mao
Neartail layout is easy to use and will be potentially using it again in the future if needed.

— Gary Wong
It lets you only add one additional language for free. To add another language option, you have to purchase. Also, it does not work with organizations' Google Workspace - you have to disable the option to restrict the survey to only the organizations' members. It also appears to collect too much data from your survey - not worth it.

— Ayissi Joachim
Just needed a one time place for people to sign up for a craft fair. Worked great!

— shellygirlrn
Neartail is a simple, well-built tool and their customer support is fantastic! We use the software as a will-call for our internal ops, and it has added a lot of value for our business. Thanks to Vipin and team for a great experience thus far. They are always ready and willing to help, and even jump on a call when needed. Looking forward to scaling this further

— Kevin Leikin
September 22, 2023
5 stars
We used it for an event, and the feedback from everyone was overwhelmingly positive. It proved to be user-friendly and efficient on the backend while providing an exceptional experience on the front end. The features and analytics were outstanding. We certainly plan to use it again and enthusiastically recommend it to others.

— Shameer Abdeen